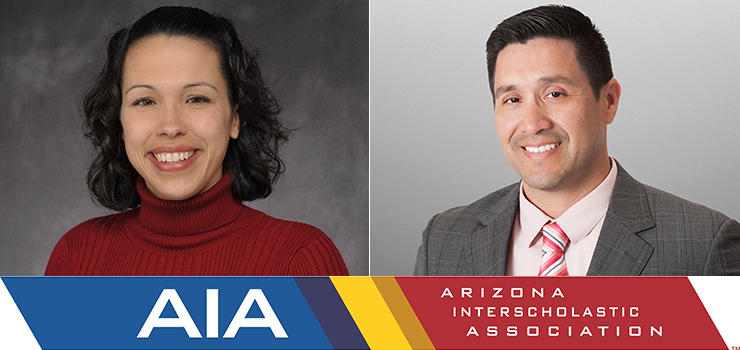 As chairs of the Arizona Interscholastic Association's Sports Medicine Advisory Committee, Dr. Kristina Wilson and Dr. Javier Cardenás worked with in-state medical professionals to draft nationally recognized high school athletic safety measures.
Back in May, when the United States began reopening after a national shutdown, a group of 27 medical professionals went to work for the Arizona Interscholastic Association's member schools.
Their goal was to draft a return-to-play guideline for the AIA's 2020-21 fall sports season. In March, the pandemic forced the AIA to cancel the rest of its 2019-20 spring season.
It was one of the few times that the AIA ordered its member schools to stop playing in the 107-year history of the association. The AIA's 27-member Sports Medicine Advisory Committee was entrusted to help student athletes return to action safely.
In May, SMAC delivered the first return-to-play guidelines, which is now a 19-page living document. This is one of the most important tasks SMAC undertook, but it's not the first time it's delivered.
In the past, SMAC drafted important legislation that other states adopted. It became the first medical advisory committee in the nation to create concussion and opioid protocols for high school athletes.
It also became the first medical advisory committee to author a rule that forces football players to go the sideline if their helmets come off during a play. The NCAA wound up adopting SMAC's helmet off rule.
Valley-based Dr. Javier Cardenás, an expert in concussion education, chaired SMAC while it was nationally recognized for its contributions.
"Through the leadership of Dr. Cardenás our sports medicine committee became in my opinion one of the foremost medical leaders for high school athletics," David Hines, the AIA's executive director, said.
Dr. Cardenás also works with the NFL, Arizona State, Arizona Cardinals and served on the sports medicine committee of the National Federation of State High School Associations.
COVID-19 is of course a different medical emergency. So this summer SMAC determined it was time for Dr. Kristina Wilson, a local public health expert, to step in and guide the committee through one of the worst public health crisis.
"Dr. Wilson was willing to step up and be the chair of the committee while going through a time that is unprecedented," Hines said. "There is no game plan or formula or previous history to really fall on. We have to create it on the go."
There is still important work to do during the pandemic for SMAC.
But the medical leadership is in place to help the AIA navigate these unprecedented times.
"They (SMAC) are a phenomenal group," Hines said. "They have a true passion for sports medicine. They have a passion for working with kids at different levels, but in the world of athletics. And they have a lot of expertise. We've got a group of people that touch almost all bases, and we can reach out and without hesitation will meet and give us some advice, offer encouragement and give us some recommendation that we can bring to the (AIA) executive board. They are a tremendous group of individuals that come together for the betterment of Arizona high school athletics."
AZPreps365.com interviewed Dr. Wilson to learn more about SMAC's leadership, becoming SMAC chair and if she sees football teams taking the field to play games. Dr. Wilson is a pediatric primary care sports medicine physician for Phoenix Children's Hospital.
Dr. Wilson, who are some of the folks who serve on SMAC?: "We all work very well together, which is awesome. The committee is a very diverse. We have representatives from Mayo, Phoenix Children's Hospital, university medical systems and Banner and Dignity Health. We have physicians but also a psychiatrist, psychologist, chiropractor, naturopathic, physical therapist and athletic trainers. All of the major pro teams, either a pro head team physician or athletic trainer, and all the colleges are represented, including University of Arizona. We did that to balance the message we are delivering and also to garner all of the expertise from all those groups throughout the Valley and the state."
With such a big group, did you split up the work on drafting the guidelines?: "We definitely have subdivided into groups to take on the bigger tasks. For instance, when we first took the first pass at the return-to-play document we identified three groups that needed to have the information in that document. The first group was obviously the coaches and the players. The second group we identified were the administrators at the schools as well as the ones in athletics. And then also the custodial staff, because a huge part of this, with infection control, is cleaning spaces and having that scheduled. When we did that, when Dr. Javier Cardenás was still the chair at the time, he asked us to volunteer in an area we had experience in and also wanted to work on. So we divided much of our group into those three working groups. Between Dr. Cardenás and myself we then merged everything together and made it one document that had the same style throughout the piece. The second pass was really where we added a lot of the cardiology stuff. We had a sub-committee looking at the cardiac perspective and the risks to the kids who have had COVID-19 on the heart. We had a group of providers from multiple disciplines, from athletic trainers to physicians, that really felt they wanted to work in that space and draft that part of it. And most recently we also had the recommendation added to it that if at some point a team should consider suspending play due to the number of cases on its team.
It's just important to have all of those different voices at the table at one time to discuss all the different aspects and things that we need to consider when we are making recommendations."
There's currently no cure for COVID-19. So what was your approach when you and your group were handed the task of drafting the return-to-play guidelines?: "The biggest thing is that we all recognize that we are navigating unchartered waters all together. So I think all of us are taking that step back and realizing we are not necessarily going to find one document that's basically going to guide us and have all of the answers in it. Recognizing the strengths that each of us brings to the committee from our different backgrounds I think has been the key that's really helped us to navigate this so far. And then also recognizing our weaknesses, which is very important. We actually don't currently have a cardiologist as part of the sports medicine advisory committee. So when our sub-groups met to draft those guidelines, we had a recommendation from a sub-committee to vet the guidelines through a cardiology provider who has expertise in sports cardiology. That's the other thing that many of us have done. We have used the availability of other providers in the Valley that we can get to. So I'm from Phoenix Children's and work with our cardiology group all of the time. We actually had a group that was working on return to play guidelines. So we worked with them collaboratively to come up with the recommended guidelines that are posted on the AIA web site. They are endorsed by both the cardiology group here at PCH, which is actually seeing the highest number of kids with COVID and cardiac complications because of how high (Arizona's) pediatric case numbers are compared to other states. We are almost double than the national average. So they have actually become experts in that area. All of us are using the resources we have in the community, and that's the nice thing about having such a diverse group. All of us have different resources available to us, which brings even more strengths in areas we recognize as a group."
As a pediatric primary care sports medicine physician, you must be very busy. But you still make time to serve on SMAC. Why was it important to serve on SMAC?: "This is probably one the first times that somebody will probably say this, but this has actually been fun for me. Not from a standpoint that this an important leadership position and it's a great honor, which it is. It's really been fun for me because I also have a degree in public health. And I got my degree in public health for a reason, because I really like population and community health. But being able to combine the two goals that I've always had in my own career of really bringing my public health background together with my sports medicine background and use them on a daily basis is fun. It's been professionally rewarding to be able to bring those two finally together in such an area that really matters because we don't know a lot about COVID-19. And we don't know some of the long term effects on the hearts of these kids and the stamina and well-being. So to be able to affect health long term in student athletes from a mental health perspective and balancing the physical demand of the sport after battling COVID-19, it's really been a joy. That's the part I've really embraced."
You've been with SMAC since 2014. But taking over as chair in the middle of a pandemic isn't something, I think, you thought would ever happen: "Our previous chair, Dr. Cardenás, is a pediatric neurologist as everyone knows. And about 10 years ago we were dealing with the epidemic of concussions in sports. So he took over SMAC right in the middle of that. And over the last 10 years he did some great work bringing us to a place where we are respected in the state with many other sports medicine advisory committees as well as the NFHS to become the authority in that space. It's interesting because I think the timing was very similar to that. I have a background in public health as well, and Dr. Cardenás and I have obviously worked very well for the last six years together on SMAC. So it was really a natural passing of the torch if you will. It does sound weird that you're in the middle of the pandemic, and you're going to take over the leadership of this organization. But it really made a lot of sense because with my background in public health it really helps to have the vision of more community based health rather than individual based health. Which is what most of us as providers in the medical world do. We focus on the individual because that's our patient. And what you learn when you have a background in public health is really how you take what is affecting your patient and extrapolate that out to how your patient functions in the community and how you can help make communities stronger, healthier and safer."
Because of our current metrics, do you think football teams will be allowed play?: "I am cautiously optimistic. There are huge advantages to getting our kids back playing sports. Obviously the kids and coaches, most of them, want to be back playing, and we want the same thing. One of the things I always tell my patients in clinic when they come in with anything, whether it be an injury or concussion, is that I want the same thing they want. I want them back playing and doing all of the things they love doing as soon as possible, but my job is that we do it safely. So what I would say to that is I think the guidelines are going to toe the line in making sure we are doing justice to the community as well as to the student athletes and coaches to make sure we are not the cause of more corona virus cases. That we are actually doing what we should be doing and doing it right to make sure that we try to keep the cases from escalating. Two of the metric areas are trending downward, and for the third, we are getting there. And that's the number (10/100,000 cases) that everyone is questioning. There are some communities that have made it there, so it's doable. It's definitely challenging. It definitely requires everyone in the community, not just the athletes and the coaches, but everyone in the community to really do their part. Wearing your mask. Staying six feet apart. To keep those numbers down. I think it's doable. I also will say that we've always had a collaborative relationship with the AIA, and I think Dr. Cardenás did an outstanding job. I hope to continue really working well with the AIA's executive board. Obviously we are an advisory committee. So there are sometimes where we've made a recommendation, and the board decided that's not in the best interest to go with. Most of the time there's a lot of discussion that happens between the advisory committee and the board to come to a common ground that does not compromise the safety and health of student athletes. But it still meets the goals of what the executive board wants to move forward with. I think over the next couple of weeks this is going to be another one of those things where there's going to be a lot of discussion. There already has been discussion in the background and what those metrics mean. What is the goal of those metrics and is there any room for those metrics to maybe move a little bit and to reach a common goal for getting our kids playing football in October. The other sports that are not contact and non-collision have been easy. They are actually back and they are competing. I definitely think there's going to be a lot of discussion and we've got some time, which is great."
You played high school sports. Does your high school background help you understand what high school athletes are going through currently?: "It absolutely does. We talk a lot about the mental health of athletes. Athletics has always been my escape. It's a stress reliever. We know it's that way for the kids right now. There's no time more than with what all of us are dealing with. The stress. The anxiety of the unknown of dealing with a pandemic. They have to balance their parents' personal thoughts and beliefs, their goals, their dreams and what they want to do long term in their life. Many of these kids are looking at collegiate scholarships. As a former high school athlete it gives me some perspective. Even when some kids are injured, you can relate to kid a lot better in clinic. You know what they are going through. You know how devastating this can be for them. It definitely plays into it."