By Collin Gallant on May 20, 2020.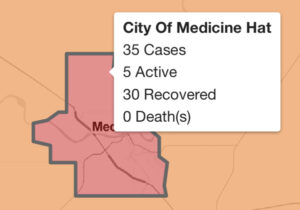 A roundup of coverage in the Medicine Hat News on the morning of Wed., May 20, 2020 and a look at today's developing stories:
COVID update
There are no new cases of COVID-19 in the Hat, and Alberta announced new funding for seniors care during Tuesday's afternoon update. A local seniors living facility reports that no new cases of COVID-19 at its facility following a positive result last week. Provincial officials said Tuesday that "re-open" delays in Brooks and Calgary could be re-evaluated by the end of the week.
City council
Medicine Hat city council is asking for better communication on how and when pandemic restrictions are lifted. A local tax package was among other business at Tuesday night's council meeting.
Layoffs at MHC
The union representing workers at Medicine Hat College is outlining job losses due to the pandemic and cut to the provincial budget.
Food sector "slammed"
A Southern Alberta public affairs group is examining the effect of the pandemic on food producers. The Lethbridge Herald has that story here.
Local charities in action
The Community Foundation, the Prairie Gleaners, and the Medicine Hat Kinsmen are announcing organizational news this week.
Regional round-up
The News reports Saskatchewan Mounties RCMP make pot arrests and Suncor is providing a new timetable for the Forty Mile Wind farm, which is stalled as the oil company absorbs a crash in oil prices.
World view
Ottawa is set to provide more information on a COVID loan program, economist are expecting inflation to fall for the first time since 2009, and a look at U.S. president Trump's use of an anti-malarial drug, are covered in this overview of today's developing stories.
Leave a Reply
You must be logged in to post a comment.