Local healthcare workers at Novant Health UVA Health System Culpeper Medical Center received a reminder that their work does not go unappreciated when a special delivery arrived in the form of 225 thank you cards from area students.
The well wishes are part of "Operation Smile," which was recently initiated by the Culpeper Chamber of Commerce in an effort to express gratitude to the healthcare professionals who have worked tirelessly to keep the community safe during the coronavirus pandemic.
Some cards expressed thanks, with one stating: "Dear healthcare heroes. Thank you so much for all your hard work. I know you are tired but don't give up. I know it's hard but we are so grateful." Others cards, donned with illustrations and notes, provided words of encouragement and prayers.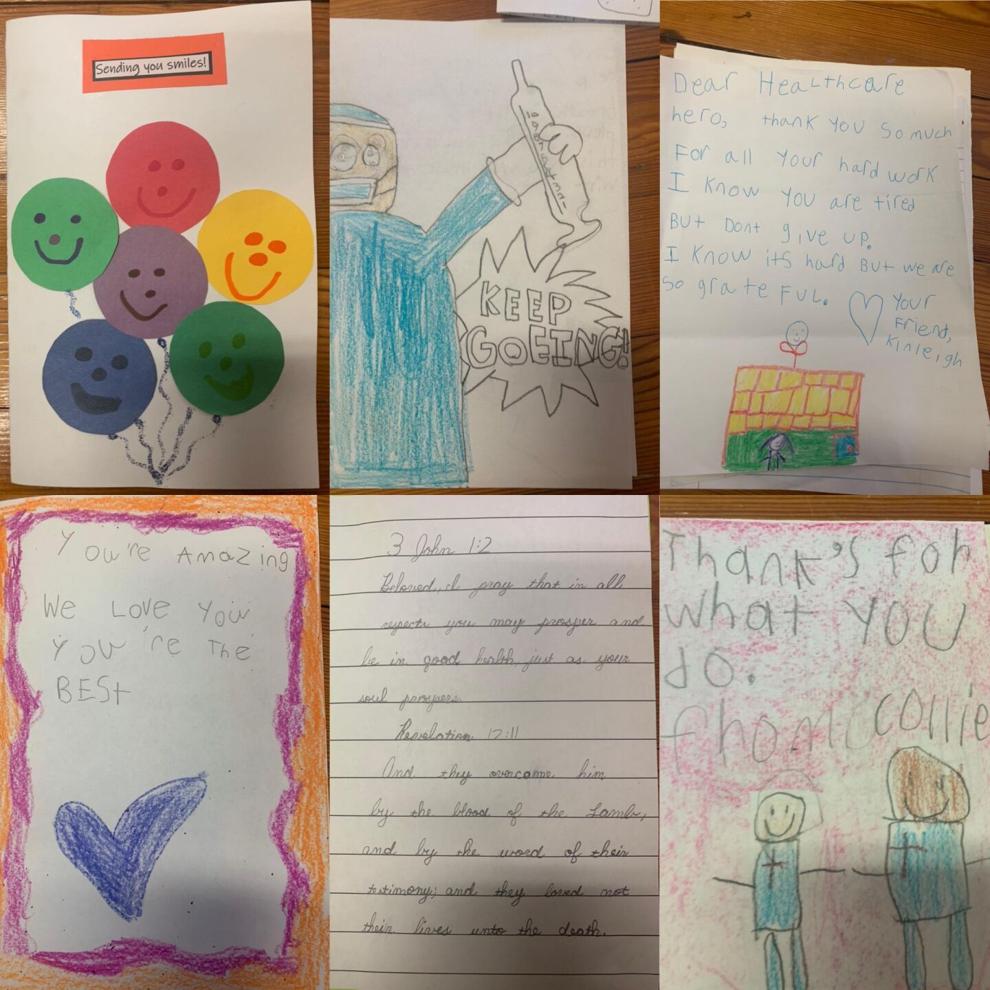 Amy Frazier, the chamber's event coordinator, said the idea originated to make sure local healthcare workers know "how much we appreciate all of their hard work and dedication to our community."
"They have been dealing with the pandemic day in and day out for 10 months and we decided it was time to try and send some love their way," she said.
Frazier said the two participating schools – Culpeper Christian School and Emerald Hill Elementary School – were chosen because it is where her son attends and Chamber of Commerce President Jeff Say's wife teaches.
"We are hoping more schools do it as well. We are happy to pick up and deliver the cards. Jeff and I were both in tears looking through the cards. The amount of time and energy and thoughtfulness the kids put into them was so special," she said.
Say agreed, saying "it blew me away with the ideas that some of our young people came up with."
"The artwork and the sentiments expressed in those letters truly show the kind spirit of our community. We truly are stronger together," he said. 
Early on in the pandemic, Say explained that the chamber coordinated meal and snack deliveries to Novant Health UVA Health System Culpeper Medical Center staff. 
"As the pandemic continued, we discovered that our medical professionals needed us as much as ever. We coordinated with local businesses and schools to help find ways to say 'thanks' to our doctors, nurses and medical staff,'" he said. 
Jon Carter, Novant Health UVA Health System Culpeper Medical Center's community outreach manager, said the hospital's staff was "extremely grateful for the cards, notes and gifts of encouragement.
"You cannot overstate the importance of positive heartfelt messages during challenging times, they are so simple but the impact is powerful. This support uplifts our team as they continue to provide remarkable care to our community," Carter said.